Twitter 101 Webinar
Event Date: 9th July, 2014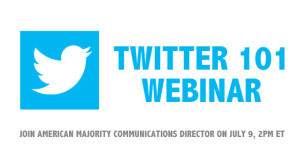 American Majority along with the generous co-sponsorship of the Family Foundation, is pleased to offer Twitter 101 Webinar in an effort to give you the basic tools you need to participate on this vibrant social media platform.
Join the webinar to learn how to use Twitter! (The link to the webinar will be provided via email prior to the event.)
This webinar is designed for the Twitter beginner. If you have never used Twitter before or you have an account but need to learn how to use Twitter effectively, we'll show you step-by-step how to do the following:
Twitter 101

Set up a Twitter account
Input the information you will need to create an account
Tweet, retweet, mention, and use a hashtag
Manage your security and settings
Follow and attract new followers
Let others know about your Twitter account
When: Wednesday, July 9th at 2:00 PM ET.
Where: Online on your computer- register below.
Cost: The webinar is $10 per person.
Aubrey Blankenship, our own Director of Communications with extensive background in social media and training, will host this information-rich webinar. She will take the second-half of the webinar to address your specific questions. Please email aubrey@americanmajority.org before the event with your Twitter-centric questions. 
RSVP today! The link to the webinar will be sent at the time of registration.
Political Training Registration
Event Contact:
Teresa Broaddus at
Teresa@AmericanMajority.org
or by calling 540-338-1251.
American Majority is a non-profit and non-partisan political training organization whose mission is to train and equip a national network of leaders committed to individual freedom through limited government and the free market.
* Topics are subject to change.