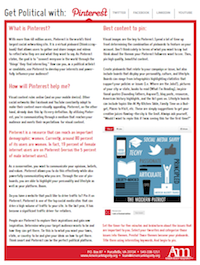 With more than 48 million users, Pinterest is the world's third largest social networking site. As a virtual pinboard (think scrapbook), it allows users to gather and share images and videos that reflect who they are and what they want to say. As Pinterest states, the goal is to "connect everyone in the world through the 'things' they find interesting." How can you, as a political activist or candidate, use Pinterest to develop your interests and powerfully influence your audience?
Our team has pulled together some great ideas and today we're releasing our Get Political with Pinterest Cheat Sheet. Download it for free today!
In the meantime, here are five tips to get you started:
1. Create an account and keep up-to-date. For some good step-by-step instructions, read this from Forbes.com. Visit Mashable's Pinterest section for the latest news and updates.