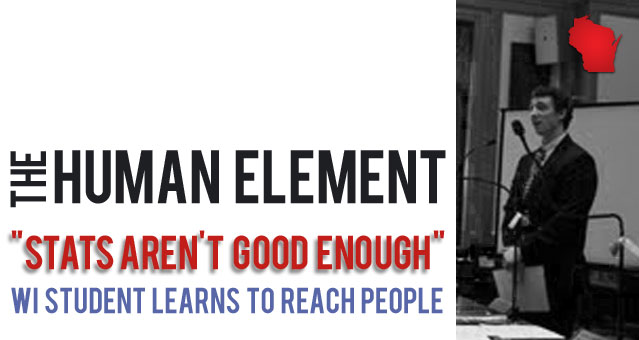 For Micah Pearce it's the human element.
Pearce, a college student from Wisconsin, is one of many college students affected by working closely with American Majority as an intern and participant in weekend training programs. His passion is people, and he views his involvement in politics as the best way to impact the culture.
"So much of government affects how people live and will change how they view themselves," said Pearce. "Politics is something that impacts people so powerfully especially when you're actively changing minds and talking to people."
From listening TalkRadio at an early age, Pearce became acquainted with the idea of campaigns and politics, but was never moved by what he learned. As he got older, however, he tried to deepen his faith and as a result began to love people deeply. Through this new-found love, Pearce was drawn into the world of Conservative politics.
When a friend backed out of an internship under Matt Batzel, American Majority's executive director of Wisconsin, Pearce was happy to take his place. Already equipped with decent political knowledge from volunteering with conservative groups in the area, Pearce felt the internship was a case of "passion meets functionality."
Through American Majority, Pearce learned to talk to people on a human level.
"Every once in awhile someone was moved by numbers. But I found that  
 statistics weren't good enough."
Understanding why people think the way they do is an idea that was heavily emphasized during Pearce's training. "Everyone understands it based on what they care about. It's issue based."
Pearce finds conversation and "conversion" of previously politically inactive people a rewarding part of his involvement with politics. "I saw the impact in my own friendships and was able to show [them] why it mattered." He recounted his excitement when a friend who had previously despised politics and actively remained ignorant, became acquainted with and then voted on a local issue without external prompting.
Having recently finished working as a staffer for a conservative organization called TeenPact, Pearce will go on to work with American Majority Action this summer. His position allows him to travel and speak to homeschooled students aged middle school to high school which fits right into his passions.