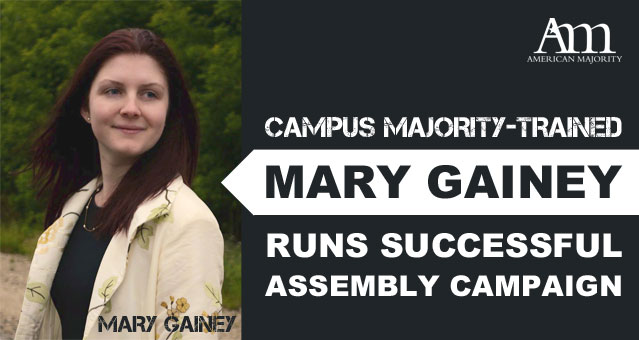 Races are heating up for November elections but some elected positions, barring a historic write-in campaign, have been decided through heated primaries earlier this year. The open 97th assembly seat in famous Waukesha County, WI was to be one of the most competitive races during the August 12 Wisconsin primary. Knowing that the primary winner would be unopposed in the general election, six candidates threw their hat in the ring. The eventual winner, Scott Allen, won the race through not only his own hard work, but that of his campaign manager, Carroll University senior Mary Gainey.
The American Majority Wisconsin team got to know Mary at the networking training at Carroll University on April, 22nd 2014. Originally from San Francisco, CA, Mary arrived in Wisconsin three years ago to study political science. She started out by looking for ways to volunteer or intern in the local political scene. In her words, "There's no harm in asking. It's one of the bravest things you can do to impress people."
Through her search, she landed an internship and was hooked on Wisconsin politics. She started attending local political events to network and get more involved. Throughout different events she met many professionals, including Scott Allen. This connection ultimately led to her position as the campaign manager for his assembly race.
Mary's summer consisted of the campaign day in and day out with little time for relaxing. Her typical day started at 6:30am by checking e-mails, meeting with Scott for 15 minutes to map out campaign essentials for the day.
Then she worked with the graphic designer and printer on campaign signs, apparel, and literature. From here she entered data for walk lists that Scott needed for doorknocking, often making new lists as he was going door-to-door. She worked on labels for lists, marked who needed thank you notes, yard signs, and which voters should be contacted next.
She had to be ready for anything. Once she re-enter nearly 200 names and their information into the campaign system to make sure the walk lists weren't thrown off. When all of this was over she would be back at home, going to bed, and the next morning would wake up and do it all over again.
When asked what the key to the campaign's success Mary says, "follow-up." Scott Allen did not raise the most money in the primary, but he knocked on doors, left notes for voters who were not at home, sent postcards, called voters who he had missed, and left voicemails for those who didn't answer. The campaign revisited wards and checked if voters needed anything or had thoughts on the 97th assembly seat. Through this follow-up, the campaign took 34 percent of the vote to win the six-way primary.
Mary's life is winding down after the campaign and ramping up with her final year of undergraduate work. For students who are interested in politics, Mary advises to not be intimidated by those you find in the political field. There is "politics in everything" so picking political science will give you the opportunity to do what you want with your degree.
Would Mary want to run a campaign again? "Yes, no question."