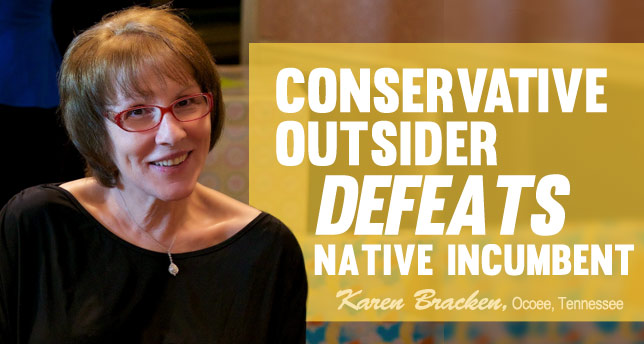 As a non-native conservative of Ocoee, Tennessee, Karen Bracken faced incredible odds when she decided to run for county commissioner as an Independent in her rural, heavily Democratic town.
"If you're not a Democrat, you won't even get a job in the county," said Karen.
The inhabitants of Ocoee have lived there for generations; most of them were born there and outsiders are regarded with suspicion. Winning alongside three Democrat incumbents, and beating one by 36 votes, Karen's successful campaign in the area was equivalent to a miracle.
"This place is small town politics at it's finest," said Karen.
Karen worked for American Majority's 501(c)4 sister organization, American Majority Action, in 2010, at a Liberty Headquarters GOTV (get out the vote) grassroots center in Doylestown, PA. The races she worked on were those for the U.S Senate, Pat Toony, and U.S House Delegate Fitzpatrick race, both of whom won.
"I ran the office — organizing walking lists and call bank, and all the stuff that goes into a get-out-the-vote center," said Karen.
Karen applied the skills and actions she learned during her work with American Majority Action to her own campaign. She credits American Majority Action with teaching her microtargeting as a main campaign strategy. She started her campaign by knocking on doors from April to August. She mailed the local voters, put up signs, and talked to people as much as possible. During the early voting period, Karen pitched a booth and greeted every single voter. She let them know that she was running as an Independent so as not to create animosity. She would tell them that she did not believe a county commissioner should be a party affiliate.
"My opponents did absolutely nothing," said Karen. "Even when you're up against huge odds, you can beat them if you take the time and effort."
Karen ran the campaign by herself and won due to the blood, sweat, and tears she put into reaching out to the community. She believes that it is the aggregate of small steps that made the win and that her opponents lost because of their neglect for those things. Without the support from family and friends, the loan of a billboard from a local resident, and her dedication to understand county interests, Karen believes she would have missed the opportunity.
"Old-time politics works," said Karen. "We've so much divorced ourselves from that. I didn't want people speaking for me; face-to-face contact is very important."