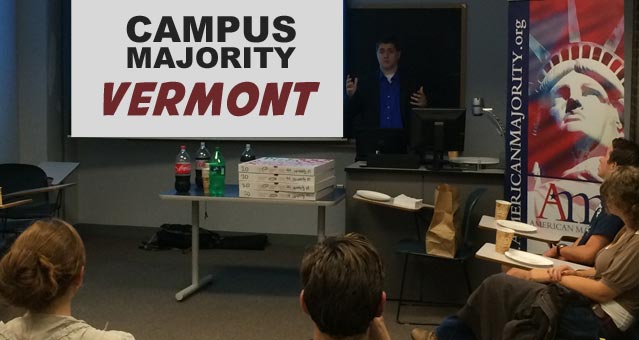 American Majority Campus Director Scott Ellis had the opportunity to visit our Vermont office to train students at Vermont universities who are leaders in new conservative groups on their campuses. These trainings took place at Lyndon State College, Castleton State College, Norwich University, and The University of Vermont.
The trainings worked to equip each group to grow its numbers, effectively utilize social media, and become an active force on campus. Scott encouraged students to grow their campus groups by selling their group to potential members on campus, even with different interests than their own. He encouraged students to create a powerful social media strategy  for their group and to use it effectively as individuals. He encouraged students to run for student government and become part of their school's newspaper.
The students are tackling big issues. They are concerned about free speech only being allowed in certain zones, how student tuition dollars are being allocated, and getting other students engaged in political issues. Throughout the trainings they shared these frustrations and ways that they are working to make a difference in their school systems.
The Young Americans for Liberty Vermont State Chair, Michael Miley, was at the first training for his group at Lyndon State and then attended the other three trainings to see how he could work with the other schools across the state. After the week he said:
The American Majority Campus Activism training session was informative, entertaining, enlightening. It was a sharp, dynamic event that covered all of the important tools today's campus activist needs in an engaging and concise way. I hope my campus group will be able to overturn our college's speech codes, specifically, and raise on-campus awareness of liberty in general.
Through continued work with Michael and other students in Vermont, Scott, along with American Majority Vermont, hopes to continue to be a resource for growth amongst college campuses in the Green Mountain State.