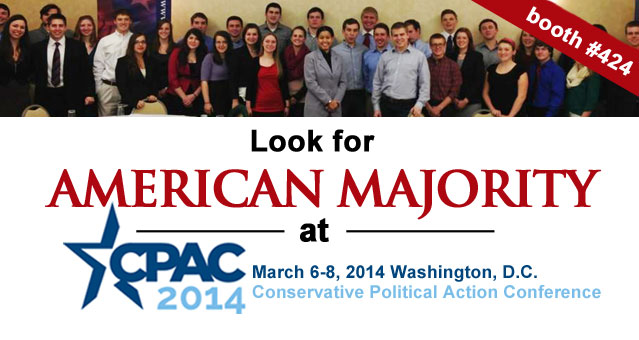 This week we will be roaming the aisles of the exhibition hall at CPAC (Conservative Political Action Conference) in Washington D.C., chatting it up with friends and colleagues, and listening in on speakers hailing from Texas to Europe.
We want to meet you! Stop by American Majority's booth (#424) in the exhibition hall. Pick up some awesome giveaways and tell us about your community and what you're doing in it. Our goal is to enhance your CPAC experience by giving you the tools to make meaningful political action happen this year.
Also, Ned Ryun, our founder and CEO, is moderating a panel at 3:30pm on Friday, 3/7: Social Media 3.0: The Next Revolution Will Start on Your Phone (Let's Hope Conservatives Don't Miss It). Don't miss it!
Hope to see you there!