Wisconsin Performer Tom Anthony Wins County Supervisor Primary
When you work full-time and head up a Vegas-style big band, it seems like you'd have little time for anything else. But not Tom Anthony. When a longtime State Assemblyman retired and decided to run for County Supervisor, Anthony, a native of Milwaukee, Wisconsin, decided there was room on his schedule for one more thing: running for office.
"Nobody else was stepping up," Anthony says. "I didn't want to let him just slide into that seat and continue on a course of irresponsible spending and governing." With 48 hours left to file, Anthony and his volunteers hit the streets and gathered well over the 200 signatures needed to get on the ballot. From there, it was a race to the primary.
"We called it two men and a minivan," Anthony jokes. Anthony would get out of work at three in the afternoon, change clothes, and door knock until dark. Door knocking took up his weekends too. An intense ground game is difficult under any circumstances. But this was Wisconsin. In the winter. "The weather was horrific," Anthony says. "We're talking snow, sleet, and rain. I slipped once on a patch of ice in someone's driveway and cracked three ribs!"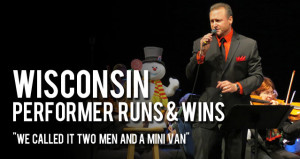 4500 ballots were cast in the primary. Anthony won by 138 votes, beating both the former State Assemblyman and a third-party candidate. "The general election is going to be a tight race." Anthony and his small team of volunteers have five weekends until the general election—and one of them is Easter weekend.
Anthony attributed the primary win in part to the two American Majority trainings he and his crew attended. "The training that we got at American Majority helped immensely as far as learning what we needed to do, and how we needed to go about things." One of the key tactics Anthony learned was planning the calendar backwards. "They showed us how to work backwards from the date of the election to figure out what we needed to do and when we needed to do it."
For Anthony, the election is about responsible governing and spending. He has declared his support for an initiative to cut supervisors' salary to $15,000, reduce the county's budget, and, most importantly, move the board to a part-time schedule. Currently, Anthony says, the Milwaukee County Board of Supervisors is the only full-time county board in the state. "Milwaukee County residents are on the hook for hundreds of thousands of wasted tax dollars," Anthony says.
Anthony believes that it's important for someone to think carefully before deciding to run for office. "Make sure it's something you really are passionate about and make sure you know what the issues are that are driving your passion, and mold them well."
Anthony encourages people to get trained by American Majority. "The best thing for people if they're thinking about running is to go to one of those seminars right out front. They're really honest with you as far as what you're going to get yourself into." He says American Majority's website, with articles full of advice and encouragement, has also been helpful.
For Anthony, ground game is everything. "Quite honestly the other side has been doing this for a long time, and one thing I've found out is they're quite organized, they have their ducks all in a row, and we don't. They've taken the time, we haven't. Thanks to organizations like American Majority, we're finally starting to catch up."